Description
Cyberpunk Mask /V2 in two models: Pixel Display version featuring in-shield flexible display + two dual-color LED modules or Basic version featuring only the LED modules.

The Pixel Display version comes with a flexible display that can be programmed to show animations, music visualization, texts, graffiti, icons, etc. It also has two controllable LED modules that can be set to red or blue in different effect modes.

The Basic model comes only with the dual-color LED light modules. Each module has 4 different effect modes (red, blue, slow flashing, fast flashing) that can be controlled by pressing the built-in buttons.

Musicians can take great advantage of the pixel display sound visualizer that captures live audio from a microphone source (e.g. Bluetooth mic, mobile phone) and animates the spectrum bars on the mask.

Furthermore, if you're a band or group of performers, you can simultaneously connect and control up to 10 Cyberpunk Mask V2 Pixel Display at the same time via mobile app, expanding a horizon of possibilities for group playing, live performances and artists.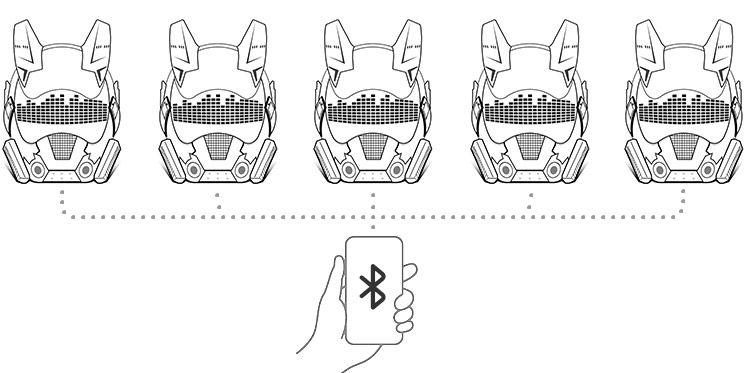 The top horns are removable, providing flexibility and allowing you to customize the mask with a more personal touch, and the shield is attached to the frame via aluminum alloy magnetic v-buckles. Three removable cushion pads are attached by velcro inside the mask, offering extra comfort and allowing you to detach them for cleaning or washing whenever needed.

Carefully handcrafted one by one, the Cyberpunk Mask /V2 is a unique wearable art that you can use to upgrade your cyberpunk fashion item or as part of your cosplay costume. It fits most head sizes and can be adjusted with the elastic straps that go around the head.

About the Brand: TOKYO-ROBOTICS is the original creator of the iconic V-SERIES Cyberpunk Masks now copied across the world. Easily recognisable for the v-shaped top horns, its original wearable designs include models ranging from V1 to V9, while the X-SERIES models resemble a X shape.

This item is made to order and takes 14 days to ship after orders are received and confirmed.

NOTE:

1. This is a handcrafted item. Minor imperfections can occur in the artisanal fabrication.
2. This item doesn't come with a warranty and cannot be returned or replaced if you damage or break it due to use or wear and tear.
3. We do not offer any kind of return, cancellation or refund once orders are confirmed, and no returns/no refunds after orders are shipped.
4. This product is not a safety or protective gear and should not be used as such. Please keep in mind this is a wearable art. We don't take any responsibility for any action(s) that you do with this product.

Read More Photos
---
Highlights
In-Shield Flexible Display
Carefully Handcrafted
Controllable LEDs
Synchronize Multiple Masks
Removable Cushion Pads
iOS and Android App
Details
| | |
| --- | --- |
| Maker | TOKYOROBOTICS MaskWorks™ (Official/Authentic) |
| Display Type* | Flexible LED Display (Blue Color) with Bluetooth Connection (Pixel Display Model only) |
| Display Modes* | Icons, Animations, Audio/Music Visualizer, Text, Graffiti |
| Lights | 2 LED Modules (Left + Right) |
| Light Modes | Switchable Red or Blue (On, Slow Flash, Quick Flash, Off) |
| Mobile App* | iOS & Android, Languages: English, French, German, Italian, Japanese, Korean, Portuguese, Russian, Simplified Chinese, Spanish, Traditional Chinese |
| Material | TPU, PC, ABS, Acrylic, Velcro, Rubber, Aluminum Alloy, Electronic Parts |
| Size | 55 to 65cm Circumference, Single Size with Adjustable Straps |
| Power | USB |
*Avaialble only in the Pixel Display model.
| | |
| --- | --- |
| | TokyoRobotics masks are fully higienized and additionally sanitized using UVC light before packing and sealing. |
Popular Questions
Just like wearing dark sunglasses, vision is reduced in daylight, and may be very limited at night or in dark settings.
This product comes in a single size (one size fits all). It has elastic head straps that can be adjusted to fit most head sizes.
If your prescription glasses aren't too big, it's perfectly fine to wear the mask with them, although you may experience fogging.
The side LED modules are charged via USB cable. The Pixel Display is also charged via USB.
100%

Authentic & New Product

Credit Card, Apple Pay

accepted

FedEx UPS DHL World

wide

Shipping

SSL-

Encrypted Secure Checkout
You May Also Like