Description
The R5 Smart Ring is the most powerful finger wearable ever made. Packing 6 RFID chip modules to simultaneously simulate 2 IC cards, 2 ID cards and 2 NFC cards in its circular body, the R5 Smart Ring is a multifunctional wearable that replaces 6 proximity cards or tags and a flash drive simultaneously.

The ring comes with 4 different markings around the body, enabling different sides of the ring to unlock, launch or trigger different functionalities (watch the video).

Packing so many technologies and power in a small form factor, the applications enabled by the R5 are endless. The R5 Smart Ring replaces access control cards (door, elevator, turnstile), public metro cards, parking card, vending machine card, among other types of contactless near-field cards or tags. It can also be used to unlock devices, launch apps, trigger home automation shortcuts (including Apple iOS Shortcuts and MI Smart Home intelligent scenes), initiate automatic calls, wirelessly share digital business cards (and other types of data), and share social media contact (almost all mainstream platforms supported).

Wait, it doesn't stop there: The R5 Smart Ring is also a Wireless Flash Disk that replaces your vintage USB dongle. With 128GB storage space on your finger, you can simply touch to transfer any file format such as PDF, JPG, ZIP, DOC and music files.

The ring is also compatible with Nintendo Amiibo™, allowing you to unlock game modes or props. Fun aside, you can also set the R5 Smart Ring to quickly & silently share an alert with your GPS location to selected contacts, without letting someone near you know that you've done so, making it an extraordinary personal safety device.

The R5 also has dual built-in EMF energy stones to improve your health. What are EMFs? Human action commands are issued by the brain. When the brain bio-electrical signals are transmitted to our limbs, an electromagnetic field around the whole body will be formed, which is called EMFs. It's scientifically proven that diseases, stress and fatigue interfere with the transmission of these electrical signals. Therefore, improving EMFs is one way to improve balance, strength and speed - More information on Google.

No fear of scratches. The R5 is made of scratch-resistant, waterproof and dustproof Microcrystal Zirconium fine ceramics. Stronger than Gorilla Glass, Microcrystal Zirconium hardness is second only to diamond.

Its high quality CNC-polished surface is silky and skin friendly. Due to the low thermal conductivity of Microcrystal Zirconium, the R5 has jade-like warmth and smoothness. No sweat produced in summer, and no cool sense in winter.

Packing lots of power in a small size, the R5 Smart Ring software is under constant iteration and has undergone updates for five generations. New functions are added and improved upon each firmware update. It's available in Small, Medium and Large Size (See the chart below to find the perfect size for your finger). NOTE:

1. For manual finger size measurement, See size chart and measurement tips below.
2. This product works with NFC-compatible mobile devices. Make sure your device has NFC before purchasing.
3. HYPEBROTHER does not provide any kind of after-sales support or technical assistance regarding the product's configuration or usage.
Read More Photos
---
Highlights
Replaces 6 RFID Cards
NFC, ID, IC Compatible
Emergency Call and SOS
Wireless Flash Disk
Home Automation
Dust & Waterproof
Details
| | |
| --- | --- |
| NFC Chip | NTAG213 13.56MHZ Type Proximity Card x2 |
| ID Chip | T5577 125KHZ EM Type Proximity Card x2 |
| IC Chip | CUID 13.56MHZ Mifare1(M1) Type Proximity Card x2 |
| Material | Microcrystal Zirconium, Ceramics, Electronic Components |
| Weight | 9 Grams |
| Sizes | Small, Medium, Large (See Size Chart) |
| Waterproof | IP56 Waterproof + Dusproof |
| Operating Temperature Range | -50℃ ~ +80℃ |
| Carriers Frequency | 13.56MHZ, 125KHZ |
| Storage Space | 128GB |
| Certifications | CE, FC, ROHS, IC |
Size Chart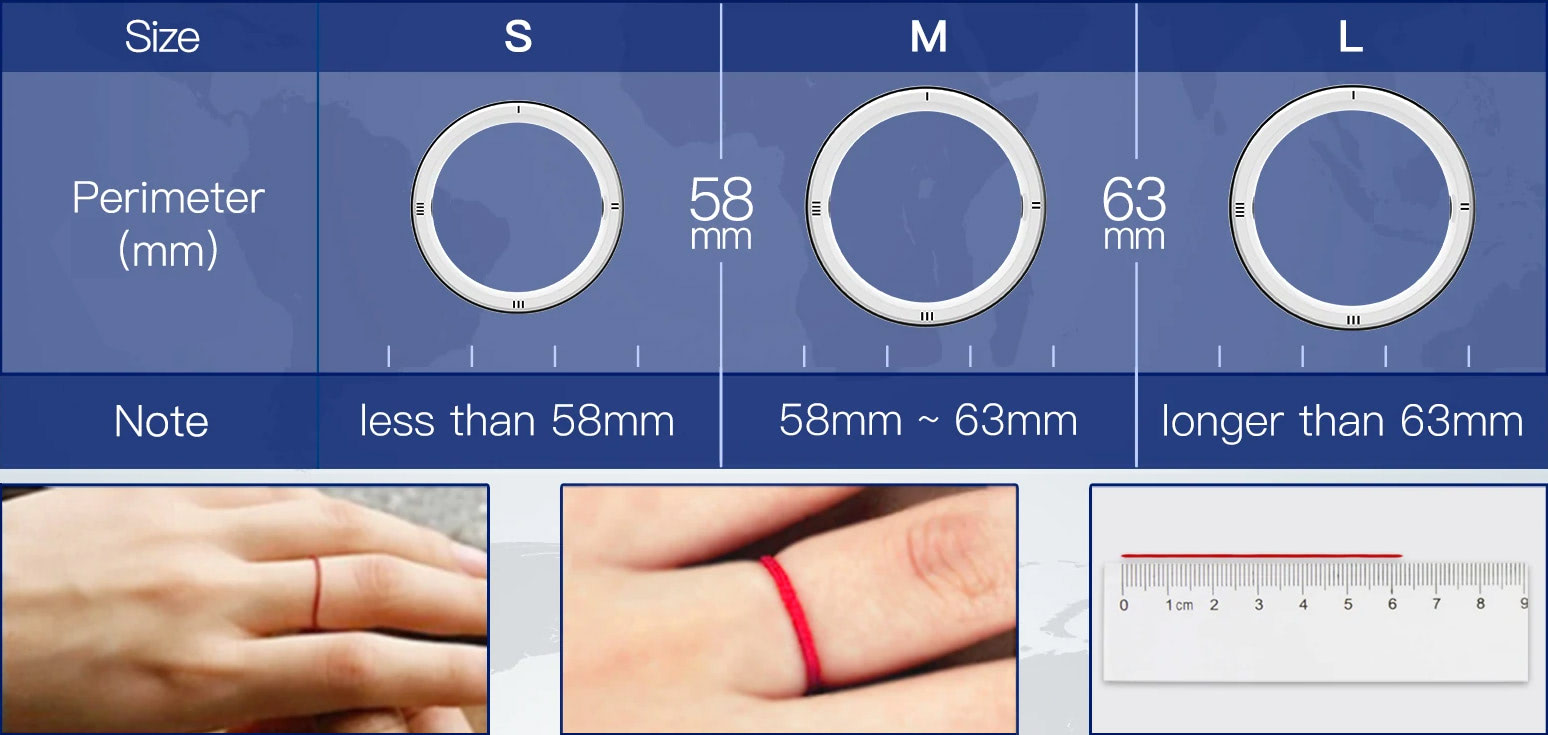 1.Make a circle around your finger with a thin, inelastic thread; 2.Tighten the thread slightly, otherwise, the ring size will be oversized; 3.Straighten the line, measure the length, and select the size according to the chart above. Use a very thin thread to measure at least 3 times to obtain more precise results.
Popular Questions
The NFC Smart Ring works with any phone, computer or tablet with NFC sensor, including iPhone XS/XR (iOS13) and above, Android and Windows.
Unfortunately we cannot offer support or guidance on how to set up and use electronic products. You must have RFID/NFC knowledge and undestand how NFC apps work.
100%

Authentic & New Product

Credit Card, Apple Pay

accepted

FedEx UPS DHL World

wide

Shipping

SSL-

Encrypted Secure Checkout
You May Also Like