Description
Cyberpunk Mask handcrafted with high quality materials, featuring dual controllable LED modules that you can charge via USB.

The Cyberpunk Mask is a unique wearable art piece that you can use as the ultimate techwear fashion item or as part of your cosplay costume.

It comes with two USB led modules, one on each side. Each module has 3 different effect modes (steady, slow flashing, fast flashing) that can be controlled by pressing the built-in buttons.

The Cyberpunk Mask comes with a black balaclava cover, but it can also be used directly on your head without the face cover (3 soft cushion pads are attached by velcro inside the mask, offering extra comfort and allowing you to remove them for cleaning or washing when needed).

The Cyberpunk Mask can also be enhanced with Light Bars, Led Modules, Reflective Stickers and Horns to give it a very special and personal look.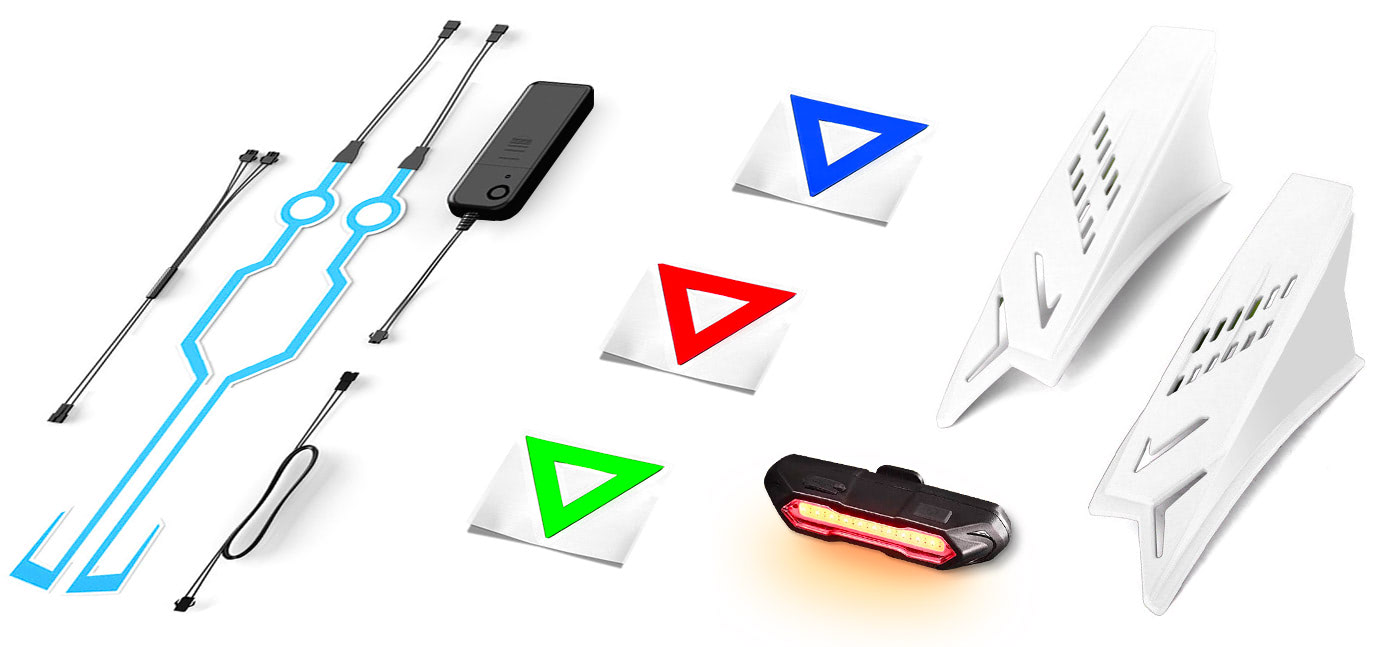 The Cyberpunk Mask fits most head sizes and can be adjusted with the elastic straps that go around the head. For extra comfort, you can use the fabric balaclava that comes included as a gift.

Cyberpunk culture often centers on the conflict among Artificial Intelligences (A.I.), hackers, and mega-corporations, and tends to be set in a near-future society, rather than in distant-future settings.

Popularised by novels like Neuromancer by William Gibson and movies like Blade Runner and Dune, cyberpunk settings are usually post-industrial dystopias that tend to feature extraordinary cultural ferment and use of modern technology in ways never anticipated.

In the past years, cyberpunk culture and aesthetics has progressively shifted from obscure literature and film noir to mainstream fashion, arts, design and other forms of expression.

This item is made to order and takes 14 days to ship after orders are received and confirmed.

NOTE:

1. This is a handmade item, new and sold as is. It cannot be returned or replaced if you damage or break it due to use or wear and tear.
2. No Returns, Cancellations or Refunds after orders are shipped.
3. This product is not a safety or protective gear and should not be used as such. Please keep in mind this is a wearable art. We don't take any responsibility for any action(s) that you do with this product.

Read More Photos
---
Highlights
Controllable LED lights
Carefully Handcrafted
Adjustable Straps
Velcro Cushion Pads
Balaclava Included
Quality Materials
Details
| | |
| --- | --- |
| Contents | Cyberpunk Mask, Black Balaclava, USB Charging Cables, Assorted Stickers |
| Lights | 2 Modules (Left + Right) |
| Material | TPU, PC, ABS, Acrylic, Velcro, Rubber, Aluminium Alloy |
| Size | 55 to 65cm Circumference, Single Size with Adjustable Straps |
| Product Dimensions | 25cm x 16cm x 15cm |
| Light Modes | On, Slow Flash, Quick Flash, Off |
| Light Color | Switchable Red or Blue |
| Power | USB |
Popular Questions
This product comes in a single size (one size fits all). The elastic head straps can be adjusted to fit most head sizes.
Looking through the mask is like wearing dark sunglasses. Vision is reduced in daylight, and may be very limited at night or in dark settings.
If your prescription glasses aren't too big, it's perfectly fine to wear the mask with them.
Both LED modules are charged via USB cable. Each module has a button to choose the color and light effect you want.
The Cyberpunk Mask is not a protective or air-filtering equipment, but you can use your normal face mask under the Cyberpunk mask.
100%

Authentic & New Product

Credit Card, Apple Pay

accepted

FedEx UPS DHL World

wide

Shipping

SSL-

Encrypted Secure Checkout
You May Also Like