Description
Limited Edition (1:1 Scale) fully automated Iron-Man MK5 Helmet with motorized face plates activated by voice commands, touch, and remote control.

This one-of-a-kind wearable art features electric animatronic face transformation, sound effects, and backlit illuminated eyes that change color.

This Mark 5 Iron Man Helmet is the most advanced Iron Man helmet ever made. Super fun to use, functional, innovative and fully-loaded, this Iron Man Helmet is definitely a a must-have.

It is equipped with the Jarvis voice control that makes it easier than ever to open and close the helmet as well as activate your combat mode.

This fifth-generation prototype of the Iron Man helmet also includes a "single touch" opening system, making it easier than ever to operate it. The additional remote control allows you to control all the features from far away.

Use English voice controls to operate, open and close the helmet. You can speak phrases like "open the mask", "lose the mask", "Start combat mode", "close combat mode" and "shutdown system" to trigger animatronic effects, change the color of the LED eyes, etc.

The Iron Man Helmet looks even better when combined with the Light Display Case to beautifully showcase your limited-edition art and protect it from dust and curious hands.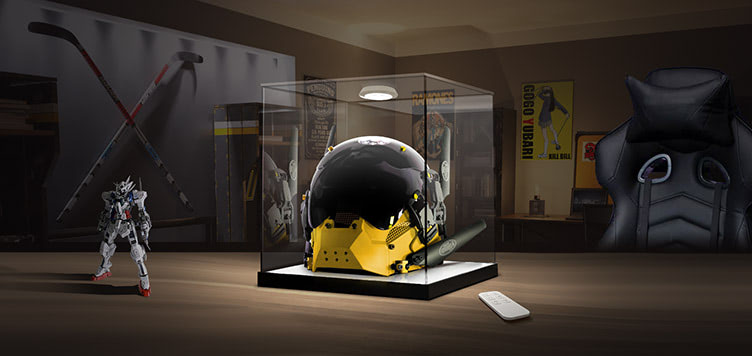 This unique helmet fits most adults head sizes and it's suitable for ages 10 and up.

This item is made to order and takes 14 days to ship after orders are received and confirmed.

NOTE:

1. This item doesn't come with a warranty and cannot be returned or replaced if you damage or break it due to use or wear and tear.
2. We do not offer any kind of return, cancellation or refund once orders are confirmed, and no returns/no refunds after orders are shipped.
3. This product is not a safety or protective gear and should not be used as such. Please keep in mind this is a wearable art. We don't take any responsibility for any action(s) that you do with this product.
4. It is strictly forbidden to remove the mask by manual force, and it is strictly forbidden to have external force blocking the movement when the helmet opens and closes, which will cause irreversible damage to the product.



Read More Photos
---
Highlights
Animatronic Movement
Illuminated Eyes
Voice & Touch Commands
Automotive Grade Paint
Remote Control
Sound Effects
Details
| | |
| --- | --- |
| Model | MK5 |
| Recommended Age | Ages 10 And UP |
| Effects | Animatronic Face Movements, LED Eyes Color, Sounds |
| Control | Voice, Touch, Remote Control |
| Head Circumference | 56-60cm |
| Weight | Approx. 2kg |
| Material | ABS, Resin, Tungsten Steel, Electronic Parts |
| Size | 14.5 x 9.4 x 11 inches |
| Power | Helmet: AA Battery, Remote: AAA Battery |
Popular Questions
This product comes in a single size (one size fits all). It fits most adults head sizes and is suitable for ages 10 and up.
Yes, you can see outside while wearing the helmet with the lights on, but visibility may be reduced.
100%

Authentic & New Product

Credit Card, Apple Pay

accepted

FedEx UPS DHL World

wide

Shipping

SSL-

Encrypted Secure Checkout
You May Also Like
All brands, products, images, information, specifications and company names are trademarks™ or registered® trademarks of their respective holders. Use of them does not imply any affiliation with or endorsement by them. All information and content contained in this website are provided solely for general information and reference purposes.