Description
Directly from Tokyo-Robotics' MaskWorks™, the Cyberpunk Mask X2 (Codename "WASP") is an one-of-a-kind wearable art in limited edition of 20 units.

Manually crafted one by one, the X2 features a custom white shield and four adjustable flaps that can be positioned as you wish or removed.

Its unique shield is professionally finished using white 3M™ "One Way Vision" perforated film carefully applied on the acrylic surface.

It comes with a white balaclava (gift), but it also can be used directly on your head without the cover. 3 soft cushion pads are attached by velcro inside the mask, which can be removed for cleaning or washing whenever needed.

The Cyberpunk Mask X2 fits most head sizes and can be adjusted with the elastic straps that go around the head. For additional comfort, you can use the complimentary fabric balaclava (included).

About the Brand: TOKYO-ROBOTICS is the original creator of the iconic V-SERIES Cyberpunk Masks now copied across the world. Easily recognisable for the v-shaped top horns, its original wearable designs include models ranging from V1 to V9, while the X-SERIES models resemble a X shape.

This item is made to order and takes 14 days to ship after orders are received and confirmed.

NOTE:

1. This is a handcrafted (new) item. Minor imperfections or cutting errors can occur due to the artisanal fabrication.
2. This item doesn't come with a warranty and cannot be returned or replaced if you damage or break it due to use or wear and tear.
3. No Returns, Cancellations or Refunds after orders are shipped.
4. This mask offers very limited visibility. Do not walk, run, drive or practice sports with it.

Read More Photos
---
Highlights
Limited-Edition of 20
Custom White Shield
Fully Handcrafted
White Balaclava (Gift)
Adjustable Flaps
Lightweight
Details
| | |
| --- | --- |
| Maker | TOKYOROBOTICS MaskWorks™ (Official/Authentic) |
| Contents | Cyberpunk Mask, 4x Adjustable Flaps, White Balaclava, TR Keychain Tag, Complimentary Tools, Sticker |
| Material | TPU, PC, ABS, Acrylic, 3M™ (One Way Vision) Perforated Vinyl, Velcro, Rubber, Aluminium Alloy |
| Size | 55 to 65cm Circumference, Single Size with Adjustable Straps |
Popular Questions
This mask is primarily designed for cosplaying/hobby/photo shooting purposes. It offers limited visibility in bright and well illuminated settings. Visibility is further reduced at night or in the dark.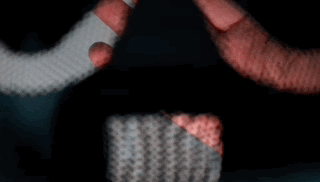 *Well illuminated hand for reference purposes. Visibility may be lower than shown above
The mask comes in a single size (one size fits all). The elastic straps can be adjusted to fit most head sizes.
If your prescription glasses are slim or small, you can wear them underneath the mask, although you may experience fogging. Please notice that this model offers very limited visibility. Therefore, wearing glasses will reduce visibility even further.
100%

Authentic & New Product

Credit Card, Apple Pay

accepted

FedEx UPS DHL World

wide

Shipping

SSL-

Encrypted Secure Checkout
You May Also Like