Description
Cyberpunk Mask /V3 (Codename "ASTRO") with adjustable flaps, neon (EL) lights and two white LED modules that can be charged via USB.

The neon EL light and the LED modules can be turned on/off independently. Each LED module can be set to different effect modes (steady, slow flashing, fast flashing) which you can choose by pressing the built-in buttons. The modules can be charged using USB cable and the EL lights are powered by common AA batteries.

The top flaps are adjustable and removable, providing flexibility and allowing you to customize the mask as you wish, and the front shield is attached to the frame using high-quality aluminium alloy magnetic v-buckles.

Three soft cushion pads are attached by velcro inside the mask, offering extra comfort and allowing you to remove them for cleaning or washing when needed.

The V3 looks even better in a Light Display Case to beautifully showcase your wearable art and protect it from dust and curious hands.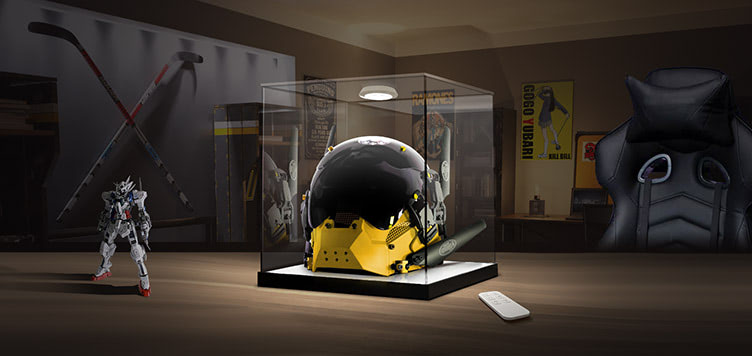 Carefully handcrafted one by one, the Cyberpunk Mask /V3 is a unique wearable art that you can use to upgrade your cyberpunk style fashion item or as part of your cosplay outfit. It fits most head sizes and can be adjusted with the elastic straps that go around the head.

This item is made to order and takes 14 days to ship after orders are received and confirmed.

NOTE:

1. This is a handcrafted item. Minor imperfections can occur in the artisanal fabrication.
2. This item doesn't come with a warranty and cannot be returned or replaced if you damage or break it due to use or wear and tear.
3. We do not offer any kind of return, cancellation or refund once orders are confirmed, and no returns/no refunds after orders are shipped.
4. This product is not a safety or protective gear and should not be used as such. Please keep in mind this is a wearable art. We don't take any responsibility for any action(s) that you do with this product.

Read More Photos
---
Highlights
Neon EL + LED Lights
Carefully Handcrafted
Controllable LEDs
Magnetic V-Buckles
Adjustable Flaps
Adjustable Straps
Details
| | |
| --- | --- |
| Maker | TOKYOROBOTICS MaskWorks™ (Official/Authentic) |
| Lights | Neon (EL) Wires (Front + Top) + 2 Modules (Left + Right) White |
| Material | TPU, PC, ABS, Acrylic, Velcro, Rubber, Aluminium Alloy |
| Size | 55 to 65cm Circumference, Single Size with Adjustable Straps |
| Light Modes | On, Slow Flash, Quick Flash, Off |
| Power | USB Charge (LED Modules) + AA Battery (EL Light) |
| | |
| --- | --- |
| | TokyoRobotics masks are fully higienized and additionally sanitized using UVC light before packing and sealing. |
Popular Questions
The mask comes in a single size (one size fits all). It has elastic straps that you can adjust to fit most head sizes.
If your prescription glasses aren't too big, it's perfectly fine to wear the mask with them, although you may experience fogging.
Looking through the mask is like wearing dark sunglasses. Vision is reduced in daylight, and may be very limited at night or in dark settings.
The LED modules are charged via USB cable. Each module has a button to choose the light effect you want.
Yes. The two flaps are adjustable and can be removed.
That's totally normal. EL neon wires require an AC inverter to power them up. Inverters emit a 60Hz slight audible pitch which is due to operating frequency and inverter component design.
100%

Authentic & New Product

Credit Card, Apple Pay

accepted

FedEx UPS DHL World

wide

Shipping

SSL-

Encrypted Secure Checkout
You May Also Like