Description
Introducing the newest Cyberpunk Mask [PROTO] Type-1 with special glossy finish, customizable parts and extra large RGB color display controllable via mobile app.

Directly from Tokyo-Robotics MaskWorks™ custom shop, the Cyberpunk Mask [PROTO] Type-1 is the first mask of its kind that allows you to customize specific parts of the product and preview it in real-time before purchase.

You can personalize the color of separate parts, including the frame, flaps and bolts, making the [PROTO] Type-1 truly unique and only yours.



The [PROTO] Type-1 packs a new-generation RGB pixel screen that allows you to customize and display a variety of high quality animations and graphics including text, an audio or music real-time visualizer, animations, doodles, and much more.

The fully articulated flaps can be adjusted or totally removed, opening endless possibilities of customization and mood settings.

The front shield, attached via aluminum-alloy magnetic buckles, can be detached from the frame if needed. The frame has velcro cushion pads that can be removed for cleaning.

The [PROTO] Type-1 looks even better when combined with the Light Display Case to beautifully showcase your limited-edition art and protect it from dust and curious hands.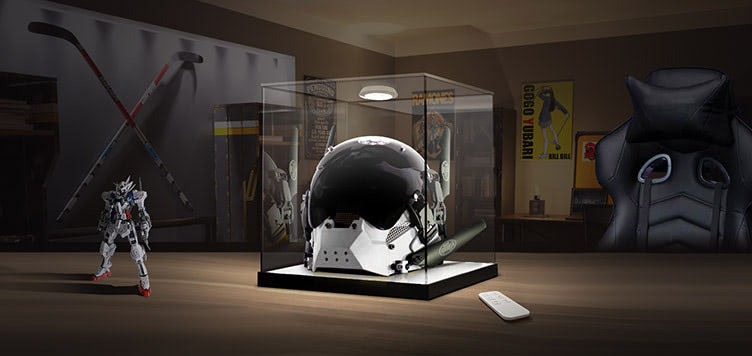 Manually crafted in a state-of-the-art process, building a Cyberpunk Mask [PROTO] Type-1 requires a team of professionals from different backgrounds ranging from electronics, painting and design. The final product assembly takes approximately 3 hours and requires four hands working simultaneously on the mask.

It fits most head sizes and can be adjusted with the elastic straps that go around the head. It comes with a balaclava cover that you can wear underneath the mask.

The [PROTO] Type-1 is a special edition item that is now available in a limited production of 50 units worldwide.

About the Brand: TOKYO-ROBOTICS is the original creator of the iconic V-SERIES Cyberpunk Masks now copied across the world. Easily recognisable for the v-shaped top horns, its wearables designs include models ranging from V1 to V9, while the X-SERIES models resemble a X shape.

This item is made to order and takes 14 days to ship after orders are received and confirmed.

NOTE:

1. This is a handcrafted item. Minor imperfections can occur in the artisanal fabrication.
2. Actual colors may appear slightly different than shown in preview due to variations in monitors and browsers.
3. This item doesn't come with a warranty and cannot be returned or replaced if you damage or break it due to use or wear and tear.
4. We do not offer any kind of return, cancellation or refund once orders are confirmed, and no returns/no refunds after orders are shipped.
5. Display Box (shown in some photos) sold separately.


Read More Photos Customize
---
Highlights
Limited Edition of 50
Color RGB Display
Articulated Flaps
Carefully Handcrafted
Automotive-Grade Paint
Premium Hardware
Details
| | |
| --- | --- |
| Customisable Parts | Colors |
| • Frame x1 | Automotive-Grade (Glossy) White, Black, Blue, Fluorescent Orange or Pink |
| • Flap x4 | Automotive-Grade (Glossy) White, Black, Blue, Fluorescent Orange or Pink |
| • Flap Hook x2 | White, Red, Yellow, Blue, Black |
| • Bolt x6 | Black, Silver, Golden, Orange, Red, Pink, Blue, Cyan, Green |
| • Puller x1 | Yellow, White, Red, Blue, Black |
| | |
| --- | --- |
| Maker | TOKYOROBOTICS MaskWorks™ (Official/Authentic) |
| Contents | Cyberpunk Mask, 4 Adjustable Flaps, USB Cable, Allen Tool, Balaclava, Brand Sticker |
| Pixel Display | Color RGB Display |
| Effects | Animations, Moving or Static Text, Audio & Music Visualizer, Graffiti, Realtime Voice Visualizer, Etc. |
| Mobile App | iOS & Android (English, Japanese, Korean, Chinese, German. French. Spanish, Portuguese, Russian) |
| Connectivity | Bluetooth 4.0 (BLE) |
| Material | TPU, PC, ABS, Acrylic, Velcro, Aluminium Alloy, Electronic Parts |
| Size | 55 to 65cm Circumference, Single Size with Adjustable Straps |
| Charge | USB |
Popular Questions
Looking through the mask is like wearing dark sunglasses. Vision is reduced in daylight, and may be very limited at night or in dark settings.
If your prescription glasses aren't too big, it's perfectly fine to wear the mask with them, although you may experience fogging.
Each [PROTO] Type-1 is individually hand painted and handcrafted upon each customization request, and the product maker has a small team focusing primarily on the Asian market demand.
Absolutely. If you already own a [PROTO] Type-1 or any other type of cyberpunk mask, you can upgrade it with custom flaps and other accessories that you can find in Accessories
100%

Authentic & New Product

Credit Card, Apple Pay

accepted

FedEx UPS DHL World

wide

Shipping

SSL-

Encrypted Secure Checkout
Photos
See All Photos
PGQWr6Vcghw
| | |
| --- | --- |
| | TokyoRobotics masks are fully higienized and additionally sanitized using UVC light before packing and sealing. |
You May Also Like