Description
Limited-Edition Cyberpunk Kedlar Mask Handcrafted with high quality materials, featuring a central luminous (EL) light strip.

The Cyberpunk Kedlar Mask is a unique wearable art piece that you can use as a techwear fashion accessory or as part of your prop or cosplay costume.

The Cyberpunk Kedlar Mask can also be enhanced with additional Light Bars or reflective Stickers that give it a very special personal look.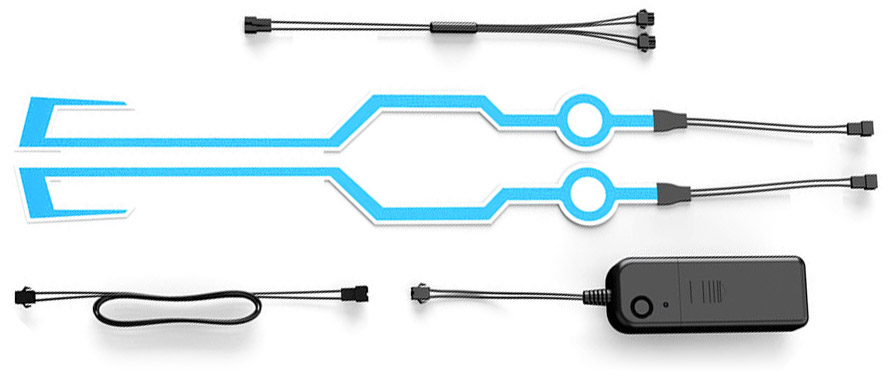 Available in black or silver (metallic) shield, the Kedlar Mask fits most head sizes and can be adjusted with the velcro straps that go around the head. For extra comfort, you can use the fabric balaclava that comes included with the product.

Founded in 2015, Fockshop is an independent collective of designers and the leading creator of very innovative and unique cyberpunk wearables. Its carefully-crafted designs (including classics such as the Kedlar and Anubis masks) are recognized for fusing Asian heritage with futuristic aesthetics.

This item is made to order and takes 14 days to ship after orders are received and confirmed.

NOTE:

1. This is a made-to-order (handcrafted) item. Minor imperfections, coloring and cutting errors can occur.
2. We do not offer any kind of return, cancellation or refund once orders are confirmed. No returns/No refunds after orders are shipped.
3. This item doesn't come with a warranty and it cannot be returned or replaced if you damage or break it due to use or wear and tear.
4. This item is not a safety or protective gear and should not be used as such. Please keep in mind this is a wearable art, use it for hobby or fashion purposes only.

Read More Photos
---
Highlights
Luminous (EL) light
Fully Handcrafted
Adjustable Straps
Quality Materials
Techwear Style
Limited Edition
Details
| | |
| --- | --- |
| Manufacturer | Fockshop™ |
| Light | 1 Luminous (EL) Light Strip |
| Light Modes | ON, Flash, OFF |
| Power | Battery (Coin Type) CR2032 3V |
| Material | PC, ABS, TPU, Metal, Aluminum, Rubber, Nylon |
| Size | 55 to 65cm Circumference, Single Size with Adjustable Straps |
| Product Dimensions | 24cm x 27cmx 14cm |
| Weight | 1.2kg |
Popular Questions
This product comes in a single size (one size fits all). The fabric net and elastic straps can be adjusted to fit most head sizes.
Looking through the mask is like wearing dark sunglasses. Vision is reduced in daylight, and may be very limited at night or in dark settings.
The luminous light strip is powered by an internal coin-type battery. You can either replace the strip or the battery once it runs out. Each battery lasts for up to 72 hours of use.
100%

Authentic & New Product

Credit Card, Apple Pay

accepted

FedEx UPS DHL World

wide

Shipping

SSL-

Encrypted Secure Checkout
You May Also Like