Description
Limited-Edition Cyberpunk Kedlar Mask hand crafted with high quality materials, featuring a central luminous (EL) light strip.

The Cyberpunk Kedlar Mask is a unique wearable art piece that you can use as a techwear fashion accessory or as part of your prop or cosplay costume.

The Cyberpunk Kedlar Mask can also be enhanced with additional Light Bars or reflective Stickers that give it a very special personal look.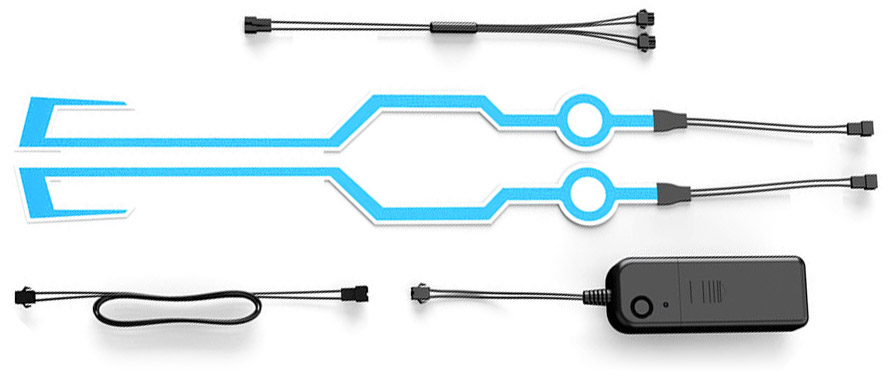 Available in black or silver (metallic) shield, the Kedlar Mask fits all head sizes and can be adjusted with the velcro straps that go around the head. For extra comfort, you can use the fabric balaclava that comes included with the product.

Cyberpunk culture often centers on the conflict among Artificial Intelligences, hackers, and mega-corporations, and tends to be set in a near-future society, rather than in distant-future settings.

Popularised by movies like Blade Runner and Dune, or novels like Neuromancer by William Gibson, Cyberpunk settings are usually post-industrial dystopias that tend to feature extraordinary cultural ferment and use of modern technology in ways never anticipated.

In the past years, Cyberpunk culture and aesthetics has progressively shifted from obscure literature and film noir to mainstream fashion, arts, design and other forms of expression.

This item is made to order and takes 14 days to ship after orders are received and confirmed.

NOTE:

1. This is a made-to-order (handcrafted) item. Minor imperfections, coloring and cutting errors can occur.
2. We do not offer any kind of return, cancellation or refund once orders are confirmed. No returns/No refunds after orders are shipped.
3. This item doesn't have a warranty and it cannot be returned or replaced if you damage or break it due to use or wear and tear.
4. This item is not a safety or protective gear and should not be used as such. Please keep in mind this is a wearable art, use it for hobby or fashion purposes only.

Read More Photos
---
Highlights
Luminous (EL) light
Fully Handcrafted
Adjustable Fit
Quality Materials
Techwear Style
Limited Edition
Details
| | |
| --- | --- |
| Manufacturer | Fockshop™ |
| Light | 1 Luminous (EL) Light Strip |
| Light Modes | ON, Flash, OFF |
| Power | Battery (Coin Type) CR2032 3V |
| Material | PC, ABS, TPU, Metal, Aluminum, Rubber, Nylon |
| Size | Single Size (Adjustable) |
| Product Dimensions | 24cm x 27cmx 14cm |
| Weight | 1.2kg |
Popular Questions
This product comes in a single size (one size fits all). The fabric net and elastic straps can be adjusted to fit most head sizes.
Looking through the mask is like wearing dark sunglasses. Vision is reduced in daylight, and may be very limited at night or in dark settings.
The luminous light strip is powered by an internal coin-type battery. You can either replace the strip or the battery once it runs out. Each battery lasts for up to 72 hours of use.
More photos
HYLk5zvbAZ0
Share
You May Also Like
All brands, products, images, information, specifications and company names are trademarks™ or registered® trademarks of their respective holders. Use of them does not imply any affiliation with or endorsement by them. All information and content contained in this website are provided solely for general information and reference purposes.