Description
Fully Handcrafted Cyberpunk Katana (V2) replica with LED blade powered by internal rechargeable battery and translucent acrylic body.

Inspired by the aesthetics of Cyberpunk 2077™ Thermal Katana, this compact sword is available in black body with orange, red or blue light blade.

Weighing only 233g, the katana's body is made of very lightweight material, which makes it easy to hold it with just one hand. The blade is also made of very lightweight acrylic material.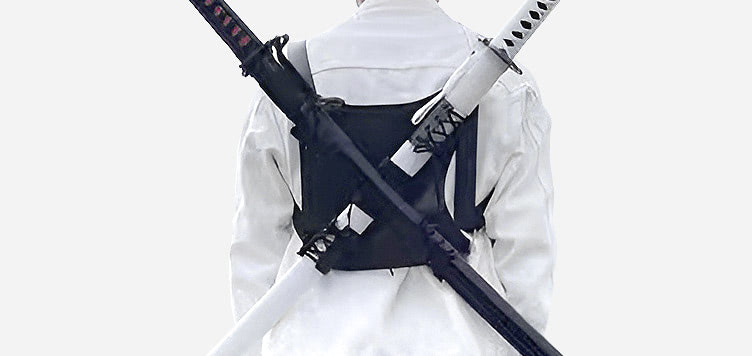 Back Strap Holder (sold separately)

The built-in 300mA lithium battery can be recharged via a common USB TYPE-C power adapter. Charging takes about 20 minutes and the battery life is about 2-3 hours of continuous use.

This unique art-piece is the ultimate accessory for your cyberpunk fashion, and it's also a pretty cool decoration item for your room.

This item is handcrafted (made to order) and takes 20 days to ship after orders are received and confirmed.

NOTE:

1. This is a handcrafted (new) item. Minor imperfections can occur in the artisanal fabrication.
2. This is a fragile item and it doesn't come with a warranty. Do not drop, hit or duel with it. It cannot be returned or replaced if you break it.
3. We do not offer any kind of return, cancellation or refund once orders are confirmed, and no returns/no refunds after orders are shipped.
4. Case not included

Cyberpunk 2077® is a registered trademark of CD PROJEKT S.A. © 2022. All rights reserved. All other copyrights and trademarks are the property of their respective owners. Read More Photos
---
Highlights
Translucent Body
LED Light Blade
Very Lightweight
Cyberpunk Aesthetics
Rechargeable Battery
Handcrafted Art
Details
Maker
SJ Models
Color Options
• Black Body + Orange Blade
• Black Body + Red Blade
• Black Body + Blue Blade
Material
Acrylic, PVC, ABS, Laser Cut/3D Printed Parts, Electronic Parts
Dimensions
80cm Long
Weight
233g
Battery
300mA Lithium Battery (Rechargeable)
Power
USB TYPE-C 5V 1-2A
Popular Questions
The color of the light blade is fixed, but it is available in either red, orange or blue.
This item does not come with or in a case, but it comes with a simple table desktop stand included as a gift.
This item is made for cosplaying/hobby/photo shooting purposes only. It will break if you drop, hit or duel with it.
All katanas and sword props are unsharpened and do not cut. They're solely made for photo shooting, cosplaying and hobby purposes.
That's how much FedEx/UPS/DHL charge to transport a long box with insurance if the item gets damaged during shipping. Shipping is provided by the third-party carriers such as FedEx/UPS/DHL, and we do not define or control their fees. Shipping fees will be even higher if this item is combined with other product(s) that will require an even bigger parcel instead of a long box.
100%

Authentic & New Product

Credit Card, Apple Pay

accepted

FedEx UPS DHL World

wide

Shipping

SSL-

Encrypted Secure Checkout
You May Also Like